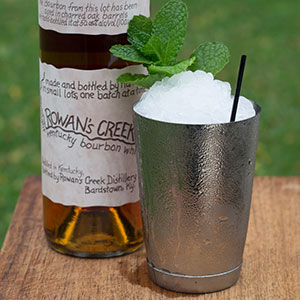 OUR FAVORITE SPRING COCKTAILS
It's Derby time in the Bluegrass! Horse racing, warm weather, big hats, My Old Kentucky Home and cocktails are all on the mind's of Kentuckians and those planning a visit.
While we don't have much experience making hats, we sure do have you covered when it comes to cocktails. We've compiled a few of our favorite julep and springtime recipes for you to enjoy.

ROWAN'S CREEK MINT JULEP
2.5 ounces Rowan's Creek
4 or 5 mint sprigs
simple syrup
crushed ice
Lightly muddle three or four mint sprigs in the bottom of a glass. Place 1 tbspn. simple syrup over a glass filled with shaved ice. Next, pour 2.5 ounces Rowan's Creek into the glass and stir for a few seconds. Drop a short straw and a mint spring into the glass. Voila!
SPRING JULEP
3 oz. Old Bardstown Estate Bottled Bourbon
1 oz. simple syrup from fruit infusion
8 mint leaves
To make the simple syrup from fruit infusion, one day before use, cut your favorite fruit (we used oranges) into slivers, place into a liter sized jar, and fill with vodka.  Refrigerate for 24 hours.  Strain vodka into a separate pour container, saving the fruit for garnish.  Mix simple syrup with the infused vodka in equal parts.  As for the cocktail, muddle mint and fruit syrup gently, so as not to mash the mint.  Add crushed ice, stir and pour into a collins glass.  Add the Old Bardstown Estate Bottled Bourbon and lightly stir.  Garnish with fruit from the infusion mixture.  Note: This recipe was taken, almost verbatim, from the Munat Brothers book Left Coast Libations.
STRAWBERRY JULEP
4 strawberries
1 tspn. sugar
1 tspn. water
1/4 cup Kentucky Vintage
ice
1 sprig mint 
This recipe comes from Albert W.A. Schmid's The Kentucky Bourbon Cookbook.  Place the strawberries, sugar, water and bourbon in a blender with three ice cubes.  Blend the ingredients together.  Fill a julep glass with ice, and pour the contents of the blender into the julep glass.  Garnish with the sprig of mint.
THE GREAT COMPROMISER
2 oz. Rowan's Creek
6 oz. mint-infused water
1 tspn. Agave in the Raw
3 dashes Fee Brothers Peach Bitters
Mint sprig
This cocktail bears the name The Great Compromiser, after Henry Clay, a native son of Kentucky.  It was Clay who, as legend has it, introduced the mint julep to Washington, D.C.  at the Round Robin Bar in the Willard Hotel.  While this cocktail has some vague resemblance to a tame mint julep, we have thrown a wrinkle or two into the mix.  To make your mint-infused water, simply take a couple dozen mint leaves and stir in with 6 oz. of water.  In an old fashioned glass, tap in three dashes of peach bitters and Agave in the Raw.  Add the mint-infused water and stir.  Add a few ice cubes and pour in the Rowan's Creek.  Stir again and garnish with a mint sprig.  Use a couple short straws for this drink.
KENTUCKY PEACH TEA
2 oz. Willett Pot Still Reserve
.5 oz. Dolin Rouge
1 large slice of peach
.5 oz. ginger ale
mint leaves
a few slices of fresh ginger
an additional peach slice and ginger slice for garnish
Muddle the ginger and peach thoroughly in the bottom of an old fashioned glass.  Next, add the mint and muddle lightly.  Place a few ice cubes in the glass and pour in the Willett Pot Still Reserve and Dolin Rouge.  Stir good and add a splash of ginger ale on top.  Garnish with a peach slice and a ginger slice.