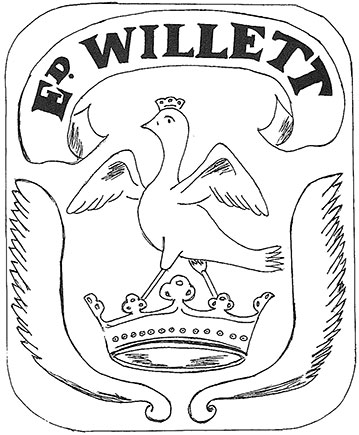 The earliest Willett, from this particular Willett family branch, that we can trace back to with 100% certainty, is Edward Willett, who was born on October 19, 1657 in Hertford, England.  Exactly when Edward was brought to America by his uncle, Charles Willett, is up for debate.  Mary Louise Donnelly, who wrote Edward Willett, Colonial Maryland Pewterer, County Clerk, Plantation Owner, His Ancestors and Descendants, states, "it was probably as early as 1666."  This much we know – Edward was in Maryland as a young boy.
In 1674 he was sent to London to learn the pewter trade.  Edward Willett's first cousin, Richard Willett, was a London pewterer who received his pewter mark in London around 1660.  Richard's mark included the "willett" bird, as did Edward's.  At times, the family coat-of-arms was used as an inscription on the pewterer's touch.  Towards the latter portion of the 1600's the touches appeared with the maker's names.  Edward Willett incorporated both practices in his touch.
Mary Louise Donnelly goes on to say that the Willett families in England had coats of arms so similar that it is certain they were originally of one family.  On the top of each Willett coat-of-arms is found a bird over a crown, as Edward Willett had struck on his touch.  The original will of Edward Willett of Prince George's County, Maryland, still in existence in the Hall of Records in Annapolis, carries his seal, his mark.  This seal bears the imprint of a crown with a bird over it.  His seal places Edward Willett as an English Willett descendant.  The bird found on the top of the crest and coat-of-arms is said to be a willett, a large light-colored shore bird known for its loud cry, "wil-wil-willett."
Some time after 1685 and before 1692 Edward Willett returned to the Province of Maryland and settled at Mount Calvert near the Patuxent River.  Edward Willett is considered among the earliest of American Pewters.